Wedding Videos by Joseph - Atlanta, Athens, All of Georgia 404-312-0343 email: wedvidjoe@bellsouth.net

We are honored to have worked with the following venues (A Partial List):
Chateau Ιlan | The Carl House Auburn | Biltmore Ballrooms | Fox Theater Atlanta | Botanical Gardens Atlanta | Barnsley Gardens | Atlanta History Center
Primrose Cottage |Chastain Park Clubhouse | Country Club of Roswell | Piedmont Driving Club | Flint Hill Norcross | Founders Hall Roswell | Higdon House Gardens | 103 West Payne Corley House | Villa Christina | Golf Club of Georgia Alpharetta | Great Oaks Roswell | Intercontinental Hotel Buckhead | Founders Hall Roswell | Dunwoody Country Club Evergreen Marriott Resort | Atlanta Country Club | Little Gardens Lawrenceville | Sugar Loaf Country Club | Westin Buckhead | Westin Peachtree Plaza | Westin Perimeter | Windermere | W Hotel Buckhead | Old Courthouse Decatur | Magnolia Hall Piedmont Park | Pilgreens McDonough | Enterprise Mill Augusta | Grand Hyatt Atlanta
The Lobby at Twelve | Country Club of the South 200 Peachtree | St. Regis Atlanta | The Ritz-Carlton Atlanta | The Ritz-Carlton Buckhead | Vinewood Newnan | Zoo Atlanta

Cathedral of Christ the King | Peachtree Presbyterian | Sacred Heart Church | Cathedral of the Annunciation Greek Orthodox | St Luke's Episcopal Church | Mt Bethel United Methodist Church | Mt Paran Church of God | Peachtree Road United Methodist Church | Peachtree Christian Church | The Temple | Congregation Beth Hallel | Temple Emanuel Ahavath Achim Synagogue | Congregation Anshe S'Fard | Congregation Dor Tamid

With Leone Productions you will receive so much more beautifully filmed footage.
All professionally edited and produced for your DVD or Blu-ray copies with menu choices.

Highlight videos posted on the web, to share with your guests...
NOTE: Introduction Photo Montage, Formals Video Sequence & Highlights have background Music of your choice!!!
All other footage in your Chapter choices has the original video recorded audio of you & your guests!!!
You choose my start and end times to capture what you want...

These become separate Menu Choices
on your DVD or Blu-ray disk copies for instant viewing

Pre Ceremony Coverage:
Wedding parties preparing for your ceremony, guest arriving,
photo shoots

Full Ceremony:
Recorded with wireless lapel mic for clear audio

Formals:
Candid video coverage of your photographer's Formals shoot: This becomes a beautiful and touching video sequence, set to music

Reception:
All the highlights, plus many candid shots of you and your guests.

Highlights Video:
Re-Cap Highlights video with one videographer;
Cinematic Style Highlights requires two videographers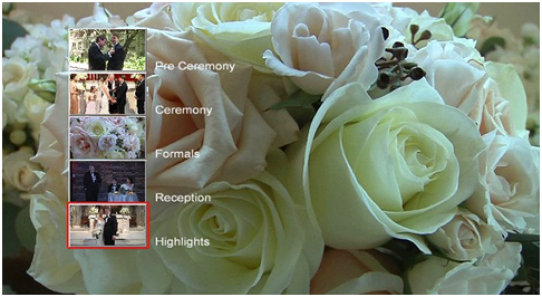 Additional Options:
My videography packages are designed to document all the wonderful moments of your day; along with dιcor details and many candid shots throughout our filming time...
footage of priceless memories not usually received from other videographers.

We are professional and personable while remaining a non-intrusive presence for you and your guests.

You would receive your wedding videos in 2 to 4 weeks!

Your entire ceremony is filmed with a wireless lapel mic, for clear audio of your vows.


PAYMENTS: A 30% retainer fee is required to reserve our wedding videography services for your wedding day. Balance is due on or prior to your wedding day. Payments can be made by check, VISA, Mastercard, American Express, and Discover.
Joseph Leone 404-312-0343
Videography Packages
Example of your Bluy-ray or DVD Video Files
Growing Up Photo Montage: From baby, to growing up years, to photos of the couple together,
set to music of your choice... $2 per photo if already digitized

Rehearsal Dinner Video Coverage: $400 minimum, up to 3 hours (may include rehearsal)

An additional manned camera at your Reception: $130 per hour (includes additional editing time)
(may be needed for large number of guests or desire for many Interviews)... Please Inquire for details!

Love Story Video: Tells the story of how you, the couple, met and fell in love... $500
(Video-taped and produced prior to your wedding day)

Our Partners
Joseph Leone: 404-312-0343
LEONE PRODUCTIONS, ATLANTA, ATHENS... Serving All of Georgia and Our of State
NOTE: With over 500 weddings filmed and produced, I offer beautiful coverage and high quality production that far exceeds my affordable pricing. While I am personable and professional, I remain an unobtrusive presence for you and your guests. Turn-around time is 2 to 4 weeks.
HIGHLIGHTS VIDEO ONLY with 1 videographer: $200 per Hour of On-Location Filming
> You receive a beautiful and touching Highlights video set to music of your choice.

> Your Highlights would be delivered on a USB flash drive or DVD or Blu-ray disk,
and posted on the web for your guests to view

> You also receive all the Raw Footage on a USB flash drive, for archival purposes.






Silver Package - $750
• 3 hours coverage (you choose our start and end time)
• Edited videos delivered on a USB Flash Drive (ex. preparations, ceremony, and reception videos)
• Full Ceremony as one of your videos; recorded with wireless microphone for clear audio
• Introduction Photo Montage (mainly stills I create of your decor details); set to music
• Beautifully edited videos on USB; for instant access to different parts of your Wedding Day
• Add a 4-10 minute Highlights video, set to music of your choice, for $150; can post on-line

Gold Package - $1,100
• 5 hours coverage (you choose our start and end time)
• Edited videos delivered on a USB Flash Drive (ex. preparations, ceremony, and reception videos)
• Full Ceremony as one of your videos; recorded with wireless microphone for clear audio
• Introduction Photo Montage (mainly stills I create of your decor details); set to music
• Beautifully edited videos on USB; for instant access to different parts of your Wedding Day
• Add a 4-10 minute Highlights video, set to music of your choice, for $150; can post on-line

Platinum Package - $1,650

• 7 hours coverage (you choose our start and end time)
• Edited videos delivered on a USB Flash Drive (ex. preparations, ceremony, and reception videos)
• Full Ceremony as one of your videos; recorded with wireless microphone for clear audio
• Introduction Photo Montage (mainly stills I create of your decor details); set to music
• Beautifully edited videos on USB; for instant access to different parts of your Wedding Day
• Add a 4-10 minute Highlights video, set to music of your choice, for $150; can post on-line

The Cinematic - $2,900

• Up to 8 hours coverage with 2 videographers (you choose our start and end time)
• Edited videos delivered on a USB Flash Drive (ex. preparations, ceremony, and reception videos)
• Full Ceremony as one of your videos; recorded with wireless microphone for clear audio
• Introduction Photo Montage (mainly stills I create of your decor details); set to music
• Beautifully edited videos on USB; for instant access to different parts of your Wedding Day
• A 4-10 minute Cinematic Highlights video, set to music of your choice, is included as another menu choice video... And posted on-line for you and your guests to view

RAW FOOTAGE ONLY: Received on a USB Flash Drive... $100 per hour of coverage time (4 hour minimum);
with 1 videographer. A second videographer is available for $100 per hour